Event recording: Representation and Resistance


with special guests:
Chelsea Mtada
Richard Mark Rawlins
AFLO. the poet & Priss Nash Poetry

About The Event
Friday 13 November, Photo Fringe 2020 Trainee Curators hosted Representation and Resistance, a conversation with four creatives supporting the continuous fight for equality in and beyond the art world. Through presentations, film, poetry and discussion, this event explores how artists create work in response to questions of resistance and representation. Themes covered include art and activism, supporting marginalised communities, art and inclusivity / intersectionality. (Please note distressing content including police brutality and loss of Black lives will be discussed)
We want to see art made more accessible, inclusive, and intersectional. It is important to make sure voices of underrepresented and marginalised communities are not only heard, but championed and celebrated. We hope this event will open up much-needed conversations about how art is being used as a tool to empower such individuals and communities, and why it's essential that allies and those from more privileged backgrounds, make their artwork representative of all people.

From the recent resurfacing of the Black Lives Matter movement, the ongoing fight for open borders and free movement, to the queer and QTIPOC community who have continuously used their art and stories as a form of resistance, we explore what this means to creatives and ask what these artists would like to see from institutions, communities, and governments, in the way of support, solidarity, and opportunities.

Activity Pack
You can click the link below to download our PDF activity pack, to take what's been discussed at this event and put it into practice yourself. We're looking forward to seeing what people can make and create in response to questions regarding resistance and representation.


About the Guest Speakers
Chelsea Mtada is a London-Based poet and filmmaker who has been creating short visual poetry films since 2019. The 22-year old creative discovered her love for story-telling at the young age of ten years old and has since then used the medium of poetry to navigate her experiences with family, love and identity as a Black, British woman. In her unreleased poetry collection "Daughter" Chelsea seeks to break down the effects of generational trauma and how her identity has changed from girl to woman. Chelsea uses her love for storytelling in her freelance work, as an arts & culture editor for GUAP, content producer and creative director.
chelseamtada.com

Richard Mark Rawlins. Originally born in Trinidad & Tobago, Richard currently lives and works in Hastings, UK. Graduating from the Royal College of Art's print programme in 2019, Richard's research takes a transnational approach to the "pop-cultural" poetics and politics of life in the Caribbean, the contested and resultant histories/realities of colonialism and it's transpontine consequence, black identity and diaspora politics. Rawlins is also the publisher of an online contemporary Caribbean art journal, Draconian Switch, (artzpub.com), and a facilitating network member of the Alice Yard artspace in Port of Spain, Trinidad which hosts an international artist residency.
richardmarkrawlins.com

AFLO. and Priss have recently gained noticeable attention, both globally and locally for their spoken word film; WAKE UP - "An impassioned and emotional journey through the peaks and troughs of hope and frustration that are felt when people finally start paying attention, only to lose focus once the hashtags have stopped trending.''

AFLO. is a Brighton-based spoken word artist and scholar-activist. AFLO. uses poetry to express her lived experiences and to challenge dominant narratives. Her work explores themes of race, identity, feminism, mental health & trauma. She recently performed to thousands at the last Brighton Black Lives Matter March, and has been building an impressive career, performing regularly throughout Brighton and further. She also has just finished filming and airing her very own TV show on Latest TV, 'AFLO. and the poets' where she invited local poets / artists / musicians to continue the conversation on Black Lives Matter, Black Identity and Culture.
@aflo.thepoet
Priss: Uncensored, Unfiltered, Unapologetic and Oversharing; Priss is a Brighton-based poet/spoken word artist telling their stories through verses, bars and pars. Priss' work covers a range of hard-hitting subjects, with a focus on race, trauma, identity and mental health. Offering an extremely personal and uncensored viewpoint through her poetry, Priss' work and performances often push for real and tangible change by making audiences question their own biases and prejudices.
@prissnashpoetry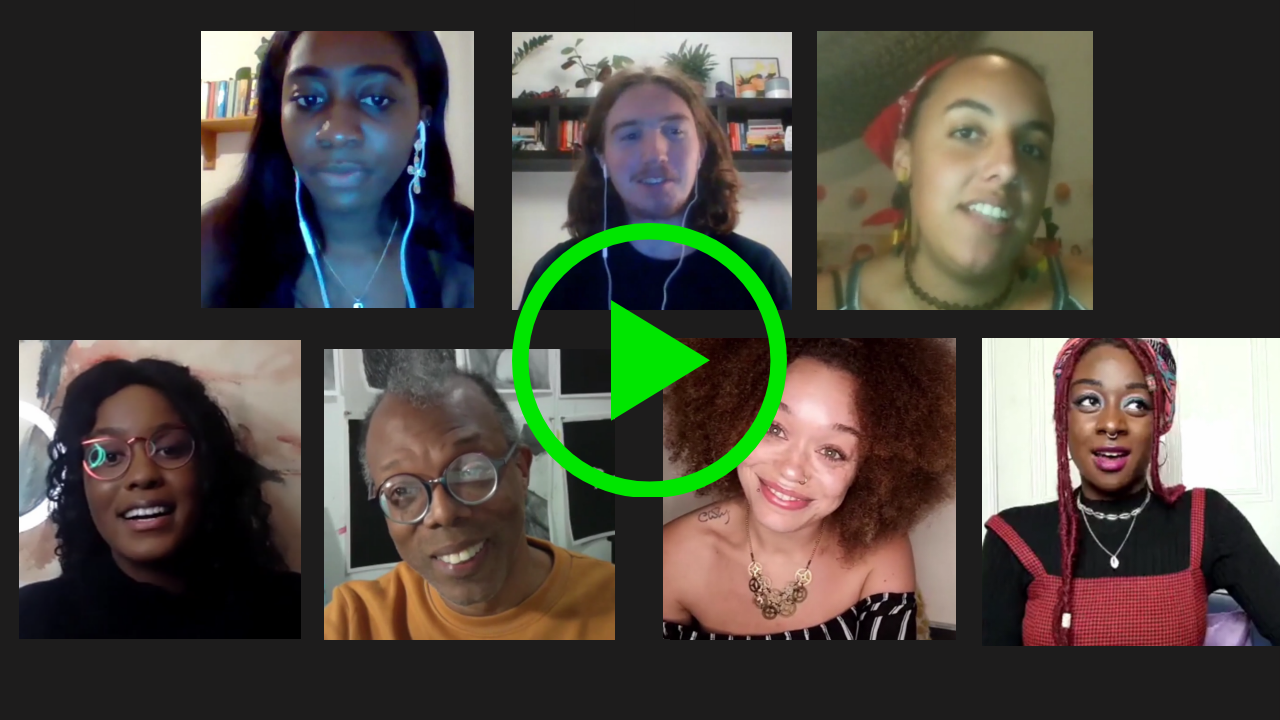 Photo Fringe Curators Training Programme
The Photo Fringe 2020 Trainee Curators are Erin James, Flynn McDonnell and Pelumi Odubanjo. Read more about our Curators Training Programme and this year's curators at this link.


Image: © Natalie Mitchell Adoration from the series They Came Before Us, 2019